Vases
We are an authorized dealer of US Metalcraft which is made in the USA and comes with a lifetime warranty.

Gem
The simplistic beauty and timeless design of the Gem has made it a popular choice for years.

Crest
The crest features antique panels and pebble texture which combines to create an original tribute.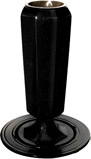 Classic
Celebrate a life with the understated elegance of the Classic memorial flower vase.

Crown
The Crown is a beauty to behold. A subtle band featuring beautiful etchings highlight the intricate designs of the lower vase which lead to a wide base.

4x10 Paragon
The Paragon's enduring beatury lies in its traditional curves and decorative edges

Tiara
The Tiara is one of our smallest vases.
Colors
Antique Silver
Antique Bronze
Silver Gray
Dark Gray
Missouri Pink
Sunset Rose
Sapphire Blue
Ebony
Metalcraft Gray
Ruby
White Marble
Mahogany
Statuary Bronze